My Trusty Steed: Moosewinkle II
My bike is named Moosewinke the Second, after Moosewinkle the First. I don't know who Moosewinkle I is, so don't ask.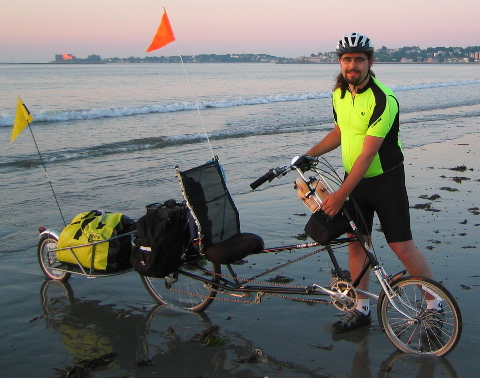 Moose is an Easy Racer Tour Easy EX, with the 9 speed rear cassette and a Koolback seat. I'm increadably pleased with the bike as a whole. It is comfortable, fast, stable, and fun to ride.
I'm towing a BOB Yak trailer. The trailer is better than panniers for several reasons: it takes a lot of load off the rear wheel, it is easier to handle, and can carry more stuff. Of course, being able to carry more might not really be an advantage, since you feel every ounce on steep grades.
A lot of people have asked about why a chose a recumbent bike. There are several reasons: comfort, comfort, and comfort, to name a few. Seriously, it was a lot easier to make it across the country without having to be constantly poked in the groin by a hard seat, or having my wrists (which I value highly) damaged. It is true that climbing is harder on a 'bent, since you can't stand to exert more power. This was rather hard on my knees and I went through most of a bottle of ibuprofen as a result. Still, I feel the trade off of poor climbing performance was well well worth the benefits.
For the gearheads in the audience, here is a quick spec sheet. For more details, consult the Easy Racer website.
| | |
| --- | --- |
| Wheelbase: | 67.5" |
| Gear range: | 19"--113" (27 spd) |
| Front wheel: | 20"x1.35" |
| Rear wheel: | 700c x 32c |
| Pedals: | Shimano SPD system |
---
Nick Martin Last modified: Fri Feb 18 01:33:20 EST 2005